CNC4PC.com & GlockCNC.com

The Mega Headstock Offer!
What's the deal? - We have teamed up with CNC4PC to provide our hottest pre-order headstocks at a discount. These deals are only available through this page, specially for CNC4PC.com
What new headstocks does this include? - BT-30, ISO-20, 5C and R8 Low Profile Headstocks.
What are the delivery times? - Our first batch of headstocks totally sold out already, this will be batch number 2. We estimate deliveries to start in February for this offer. Because we're working with CNC4PC and the delivery will be in February, we're offering very special pricing for friends and customers of CNC4PC.
New Headstocks for Taig, Sherline or Other Custom Application
For Your Mill:
The BT-30 Mill Headstock - The Hottest Selling Headstock to Date...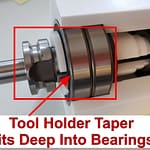 Everybody pretty much knows that Sherline and Taig have done a fine job producing very reasonably price mills. Some guys are totally fine with the current little headstock. However, many would like to see a much more robust headstock option. If that sounds like you, then this is for you. The GlockCNC BT-30 has some amazing benefits (this is the short list, other places on the website will have the full description).
BT-30 Tooling is Super Cheap Compared to Level of Precision - Many suppliers sell new tooling with .0002" TIR for $35 - $50. This means you get commercial grade performance cheap!
Specially Designed BT-30 Spindle Arbor For Small Mills -

Benefit #1 - Your new spindle sticks below the headstock by just 5mm. This will maximize your available Z axis work room.
Benefit #2 - One of the nice things about the BT-30 is the taper length. Why? Because your low profile BT-30 spindle allows the tapered inside part of the spindle that holds the BT-30 tooling, to be far up inside the bearings (see the image).  In a nutshell, this moves the brunt of the cutting force from the tooling taper to the inside the bearings...where it should be. I would say 99% other headstocks have their tooling taper below the bearings. That's a terrible spot for it. Imagine now getting the best rigidity, cuts and cutting speeds out of your mill.

Dual Stack Bearings - Most commercial mills use at least 2 bearings on the tooling end of the spindle arbor. That's exactly what we did. The headstock was beefed up from our normal headstock design to occomodate 2 bearings on the tooling end. Those bearings are captured by 2 jam nuts. This gives you maximum rigidity and dampening.
Simple Drawbar or ATC Ready - The vast majority of our customers order this with the drawbar option. Because BT-30 tooling is already threaded, a simple drawbar can be used to tighten and loosen the tooling. Much like an R8 system. However, if you want to use your new headstock as an ATC system, you can simply add a petal clamp and drawtube. You can do this upgrade at anytime. We can sell you the petal clamp, however the drawtube and disc springs are up to you.
Fast Tool Changes - Want the secret to fast tool changes with your new BT-30? Get yourself an impact driver with a socket adapter and socket. You can use that to tighten and loosen your drawbar.
Auto Ejection Cap - For those who want to use the simple drawbar system, you'll get a little bonus. Sometimes taper tooling can stick in the spindle. Nobody likes taping the tooling out. So, we've added a cap on top of the spindle that captures the drawbar. When you loosen your tool, the drawbar moves upward and is stopped by the Auto Ejection Cap. Because the drawbar can't go up any further, it pushes the BT-30 tool out of the spindle automatically.
Runout of Taper: .0005" or better
Bearing Options: Deep Groove or Angular Contact, ABEC5 or ABEC7, ABEC-9 or Hybric Ceramic can be custom ordered. Some Pre-Order options may include upgrade bearings at no extra charge.
High Speed Balancing Available - The headstock is good for 8,000 as is. If you want 15,000RPM or 20,000RPM, that can be custom ordered.
Beefy Headstock Casing - We've made the headstock casing a little larger than our current Heavy Duty casings. Plus, we've added T-Slots on the front side. Like our other headstocks, we've put motor mounting holes on both left and right sides of the casing.
Special Rewards for CNC4PC Customers:

Upgrade from ABEC-5 deep grove to high end ABEC-7 deep groove bearings $367 Value (or Discounted Matched Set Dual Angular Contact ABEC-7 Bearings)
2 Step 5 Rib Pulley $69 Value
Total Savings: $436.00
The ISO-20 Compact Headstock - Great for Mills and Routers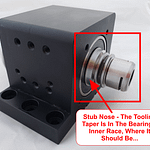 This is a very popular headstock for those who would rather use tooling a little smaller than the BT-30. Like it's bigger brother, the BT-30, tooling is available all over the internet.
High Precision Tool Sold All Over The Internet - When you compare the cost to level of precision, it's hard to beat the ISO-20 tooling. I've seen tooling from $25 to $50 with .0002" TIR. Plus, the tooling often has very high speed balancing already done. Typically,
Tooling Sizes - ISO-20 tooling typically comes in either ER16 or ER20 collet sizes. I've seen ER25 for sale, but they are a little harder to come across.
Low Profile Spindle Arbor - Your ISO-20 spindle arbor will have only 5mm "stick-out" from the bottom bearing. This will maximize your Z axis working room.
62MM OD 30MM ID Bearings - We use the same bearings and headstock casing for the ISO-20 as our R8 and ER headstocks. This means the bearings are much more robust than OEM Taig or Sherline bearings. Bigger bearings mean better dampening and load capabilities.
Drawbar Design - ISO-20 tooling is threaded already. You can simply use the included drawbar to tighten and loosen the tool just like an R8 system.
The Low Profile R8 Spindle Headstock - We've moved the taper much closer to the bearings!
One of the common drawback to the R8 is how far the spindle stock below the bottom bearing. This actually creates ehanced pressure on the bearings...and nobody wants that. Because we designed the BT-30 and ISO-20 with a low profile, we figured that we might as well do the same for the R8 systems. This is a great option for those who already have a big investment in R8 or TTS tooling. Plus, as you know, there are a ton of R8 tooling options out there and reasonable prices.
Top Part Of Taper Is Now Inside the Bearing Area - By using a very short nose, or "stick-out", from the bearings of just 5mm (like the GlockCNC BT-30 and ISO-20), this allows part of the spindle taper to be on the inside of the bearings. This means better rigidity and vibration dampening. It can also enhance the dual contact feature of the Tormach Tooling System if you have it.
Compact Design - Because nose of the spindle you have a lot of Z axis room, especially when using R8 collets.
Bigger More Accurate Bearings - You'll have far bigger bearings than the OEM Taig or Sherline bearings. Plus, we start out with ABEC-5 deep groove bearings and have option for ABEC-7 deep groove or angular contact bearings.
For The Lathe
We've had customers ask us for a commerical grade 5C lathe that can use a jaw chuck for a long time now. You can finally get it! Because many of our customers use the GlockCNC componets in commercial settings, we've made the 5C strong for it's compact size. Many also complained about Taig and Sherline chucks...they're too small and not that accurate. This won't be an issue with your new 5C heastock. We've build in threads for a larger chuck plate. This will give you the ability to use 5" and 6" jaw chucks. And don't worry about the extra load on the bearings. Just like the GlockCNC BT-30 headstock, you're getting a double stack of 80MM OD bearings at the front.
Features:
Solid 6061 Aluminum Billet - Precision manufactured and anodized in black. Just the right amount of "meat" for dampening and rigidity. This means better cuts.
Bearings - Dual Front End 80mm OD x 50mm ID bearings for better rigidity and . Choose from  ABEC-5 or ABEC-7 Deep Groove, or ABEC-7 Angular Contact Bearings
T-Slotted Headstock Top - Accepts Common 5/16" Thread T-Nuts or M8 Thread T-Nuts
Threaded Spindle Nose - We have chuck adapters coming out for both 5" and 6" jaw chucks. This will open up the world of precision chucks. Set-Tru chucks can do a repeatilbity of .0005"!
Large Through Hole - With a 1.30" through hole, you can fit some pretty big stock. This has always been an issue with other small lathe headstocks.
Precision Collets - 5C is a commercial grade standard. This means you can get super precision collets down to .0002" runout.
Collet Sizes - We all know 5C can hold larger stock, up to 1.1563"/27MM, but it can also hold tiny stock. Amazingly, you can hold .016" or 0.5MM.